Embroidery Machine Connection
Wirelessly manage and transfer embroidery designs to your embroidery machine with Wilcom's EmbroideryConnect WiFi Device

Send design files directly from EmbroideryStudio software to your embroidery machine
Who is EmbroideryConnect for?
The innovative EmbroideryConnect is tailored to meet the needs of embroidery businesses in search of a versatile network option. It enables these enterprises to enhance productivity, bolster efficiency, and refine their workflows with features that provide real-time tracking and unified management. Moreover, EmbroideryConnect is designed to facilitate the connection of numerous devices, adapting to a range of embroidery configurations.
Additionally, Retail Kiosk owners can leverage the benefits delivered by EmbroideryConnect.
Advantages of EmbroideryConnect
Wirelessly transfer designs from EmbroideryStudio software to machines

LED lighting notifications - colours to notify staff of multiple events such as design acceptance or rejection

Encryption for secure wireless design transfer

Intellectual property anti-theft solution with transient memory

Plug 'n Play without the need for complex software

Auto-update of firmware online
Manually loading individual designs
Incorrect design file usage
Stolen designs
Wear and tear on embroidery machine controllers
Machine compatibility issues
Complicated networks
Use EmbroideryHub software to manage your EmbroideryConnect devices in one place
EmbroideryStudio e4.5 and above versions includes a software component called EmbroideryHub. It is a management console to set-up and manage your EmbroideryConnect devices. EmbroideryHub is standard and free in all levels of EmbroideryStudio.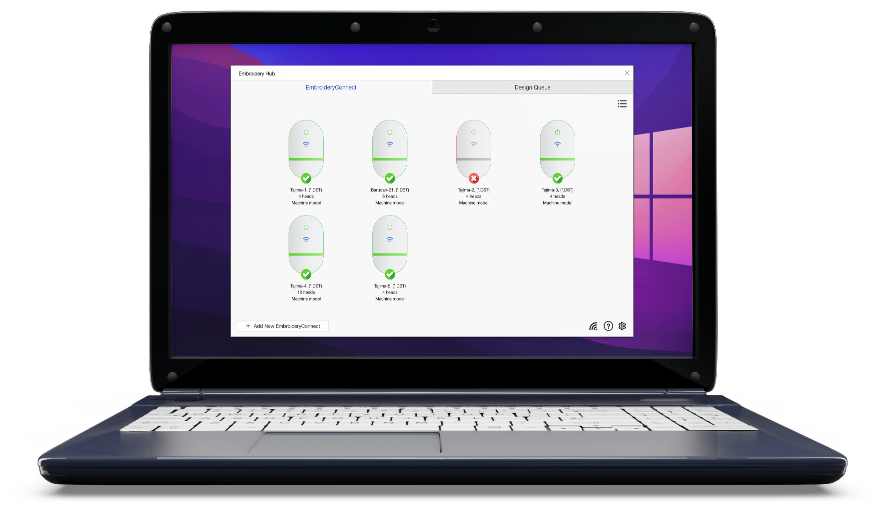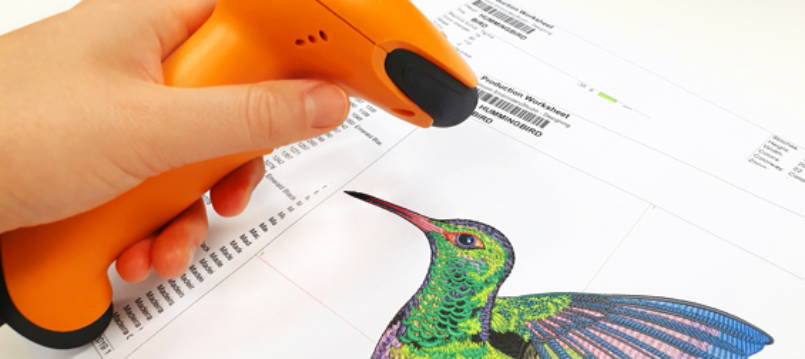 Connect your barcode scanner directly to your EmbroideryConnect device and instantly pull designs from your EmbroideryHub queue to your embroidery machine.
This reduces human error and waste by ensuring the right design is loaded everytime.
Save time and money with EmbroideryConnect.
Vibrant color-coded LED lights provide instant feedback on the status of your EmbroideryConnect device.
This reduces mistakes and speeds up embroidery production times.
Together with EmbroideryHub, you can ensure the correct design is loaded to the correct embroidery machine, eliminating costly errors and incorrect design selection.
As simple as plug 'n' play! Connect to your existing WiFi and eliminate complicated network setup and configuration. Once complete, simply plug into your USB supported embroidery machine.
Designs are encrypted during transfer and will automatically be deleted from the device when disconnected from your embroidery machine (transient memory), protecting your designs.