DIGITAL EDITION makes it more affordable and easier than ever before to upgrade or trade-in!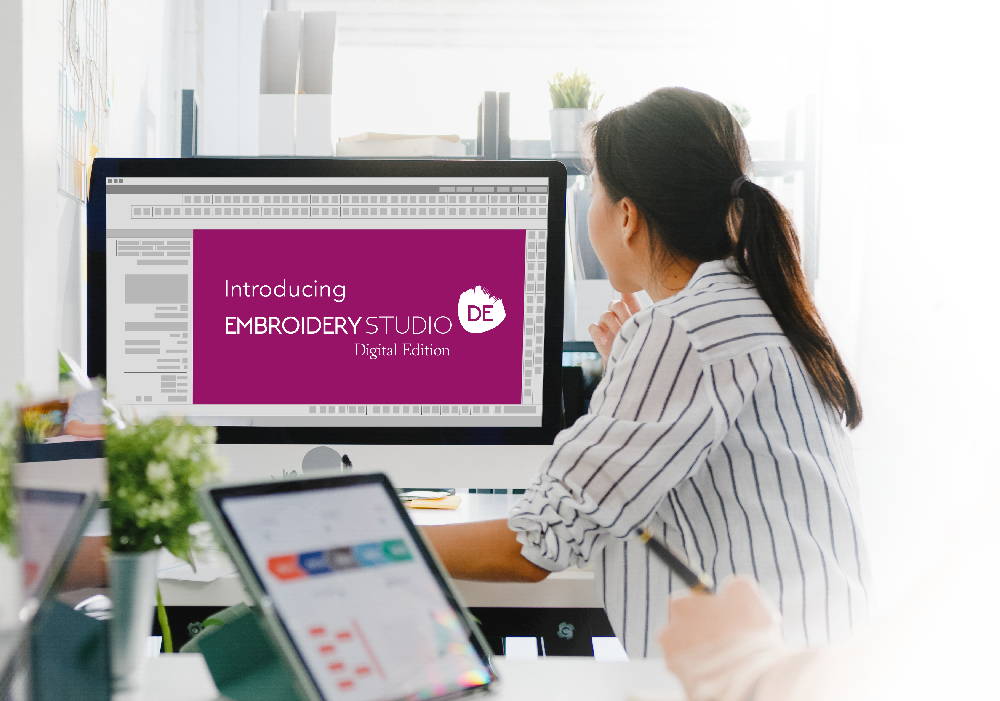 Wilcom has released its first DIGITAL EDITION of their flagship EmbroideryStudio software.
One-Time purchase, or
Subscriptions now available - automatically access the latest version
Sign in and work from any location, anytime – no dongle required
Special pricing available for upgrades or trade-ins
Wilcom's new Digital Edition comes in four levels
CorelDRAW® Graphics Suite 2023
The world's number one professional graphic design solution for the embroidery industry is fully integrated with the Designing and Decorating levels of Wilcom's EmbroideryStudio Digital Edition, ensuring you have the best embroidery design solution available.
Included with EmbroideryStudio Digital Edition - Designing & Decorating levels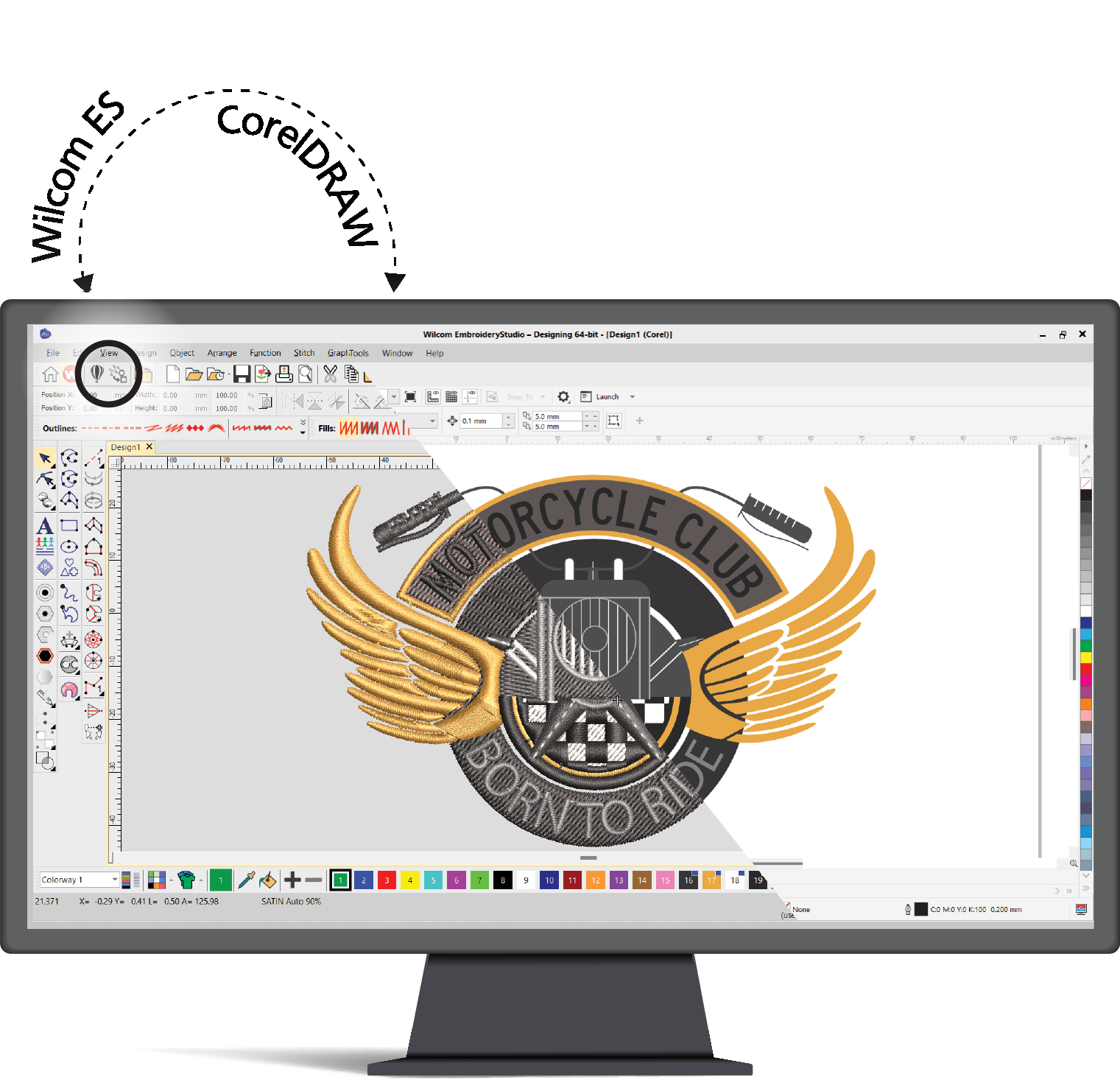 Why do 8 out of 10 customers choose Designing?
Because 7 add-on Elements are now included as standard in Wilcom's EmbroideryStudio Designing Digital Edition, making it the most creative edition to date with more than 50 exciting new features!

Shading & Open Fills

Curved Fills

Spiral Fills

Reef Photo Stitch

Photo Flash

Offsets Advanced

Auto Arrangements
Compare the DIGITAL EDITION to your old Wilcom EmbroideryStudio Designing
o
Paid Add-on element (optional)
-
Not available for this product
Automatic Access to Updates
FEATURES AVAILABLE

e1




2008

e2




2010

e3




2013

e4.5




2020

DE




2023

Dongle Free
-
-
-
-

✓

One-Time Purchase available

✓

✓

✓

✓

✓

Subscription Options

*

-
-
-
-

✓

Windows 11 Compatible/64 Bit Systems
-
-
-

✓

✓

CorelDRAW(R) Graphics Suite Included

✓

✓

✓

CD 2020
CD 2023
LETTERING
Professional Fonts
<200
203
216
226
228
Kerning (Automatic Letter Spacing)
-
-

✓

✓

✓

Support for Arabic and Thai languages
-
-
-

✓

✓

DIGITIZING & DESIGN CREATION
Graphics Digitizing Toolbar
-
-
-

✓

✓

Additional Stitch Types (Vector, Satin Raised, Square, Double Square)
-
-
-

✓

✓

Email Production Approval PDFs
-
-
-

✓

✓

Product Visualizer
-
-

✓

✓

✓

Over 1000 New High-Resolution Product Images
-
-
-

✓

✓

New and Customized Embroidery Hoops
-
-

✓

✓

✓

Double Tatami underlay
-
-

✓

✓

✓

Virtual Decoration
-
-

✓

✓

✓

Freehand
o
o
o

✓

✓

Auto-Digitize Bitmaps (Enhanced in e4.2)
o
o
o

✓

✓

Auto-Shaping
o
o
o

✓

✓

Vector Drawing
o
o
o

✓

✓

Bling
-
o
o

✓

✓

Export Multi-Decoration Files
-

✓

✓

✓

✓

Hand Stitch Effect
-
-
-

✓

✓

Multiple Offsets with independent properties
-
-
o
o

✓

Liquid Effect Curving Stitching
-
-
-
o

✓

Florentine Effect Curved Stitching
-
-
o
o

✓

Accordion Spacing
-
o
o
o

✓

Mirror Merge
-
-
o
o

✓

Color Blending
-
o
o
o

✓

Stipple Fill
-
o
o
o

✓

Spiral Fill
-
-
-
o

✓

Reef Photo Stitch - ENHANCED
-
-
-
o

✓

Photo Flash - ENHANCED
-
-
-
o

✓

EDITING
Remove Overlaps
-
-
-

✓

✓

Advanced Color Management
-
-
-

✓

✓

Branching and automatic sequencing
-
-
-
o

✓

DESIGN & ORDER MANAGEMENT
Integrated Design Library
-
-
-

✓

✓

Open Multiple Design Tabs
-
-
-

✓

✓

Order Job Feature
-
-
-

✓

✓

EmbroideryConnect WiFi Device
-
-
-
o
o
CONTACT US FOR OTHER OPTIONAL PAID ADD-ON ELEMENTS
Compare the DIGITAL EDITION to your old Wilcom EmbroideryStudio Designing